Our Mission

Learn More>
Who We Are

Learn More>
What We Do

Learn More>
Recent News
The next town board meeting is on September 25th at Lund Hall, at 4:15.
The 2022 - 2023 Fiscal year audit and associated documents can be found HERE, HERE, and HERE.
Our Spring 2023 Newsletter is out now!
Draft Fiscal Year 2023/2024 budget is available and can be viewed HERE.
IMRF Employer Cost and Participation Information (to comply with P.A. 101-0504)
Extensive information about Township parcels can be found at http://ritownshipassessor.com/. This is a newly created service from the Assessor.
Emergency Assistance of up to $500 may be available for rent or utility assistance if you have experienced a reduction in income, job loss, auto repair or other household emergency. You must have an income (wages, SSI, Social Security, Unemployment Insurance, etc.). Call (309) 788-3417 for more information.
Township's financial report is available for review HERE. It covers revenue and expenses from 4/1/22 - 3/31/23. There were no findings or concerns; it was a CLEAN audit.
Rock Island Township has approved a Social Media Policy regarding our Facebook page and other forms of communication with citizens. It can be found HERE.
Welcome to Rock Island Township, Illinois
Thanks for visiting Rock Island Township's website! This is a way to share information about townships in general and, specifically, Rock Island Township's services, programs and activities. Read more about the General Assistance program, other services and the Assessor's Office."
We hope that you find this site useful as it provides the basics about who we are and what we do. If you have questions, do not hesitate to contact us.
If you have suggestions about how our website can be improved, please let us know.
Hours of Operation:
Monday – Friday 8:00 a.m. – Noon; 1:00 p.m. – 4:00 p.m.
---
Our roster of elected officials changed in 2020. With Clerk Joan Clark's death the end of 2019, Trustee Heather Gray was appointed the new Town Clerk. Tia Parker was named to fill Ms. Gray's Trustee spot and Christina Wilson was appointed the new Assessor due to Brenda Carmen's retirement on March 31st.
New Town Clerk - Heather Gray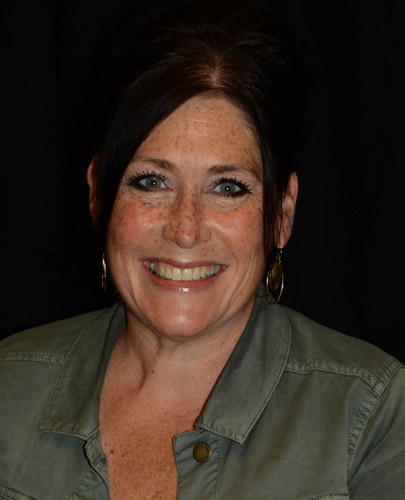 Trustee Heather Gray was appointed the Town Clerk on February 10, 2020, to fill the vacancy created by Joan Clark's death. Ms. Gray is learning her new responsibilities of writing minutes and being the official record keeper of the Township. She is also the Township's Freedom of Information Officer.
New Trustee - Tia Parker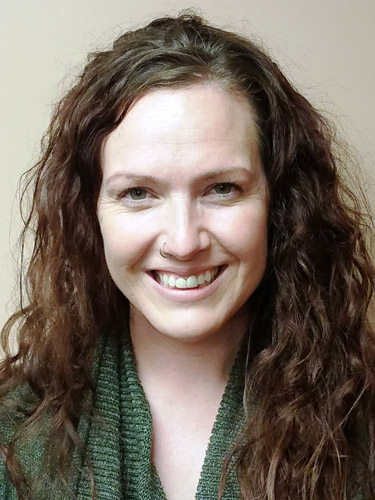 Tia Parker was appointed to fill the remainder of former Trustee Heather Gray's term; until May 2021. Ms. Parker is a Registered Nurse, working at Unity Point Hospital Rock Island as an Operating Room Nurse and Relief Lead. She previously served as a Wound Care Nurse at Unity Point Hospital Moline. Ms. Parker and her husband, 5th Ward Alderman Dylan, live in the Broadway Historic Neighborhood.
New Assessor - Christina Wilson, C.I.A.O.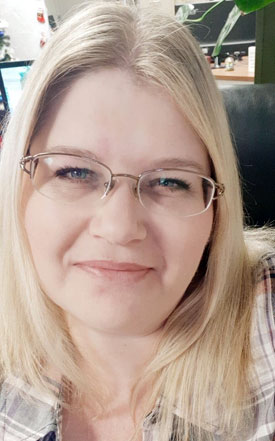 With Assessor Brenda Carmen's retirement on March 31, 2020, the Town Board appointed Christina Wilson, Certified Illinois Assessing Officer (C.I.A.O.), to fill the remainder of Ms. Carmen's term; until December 31, 2021. Ms. Wilson has worked in the Rock Island Assessor's Office since November 2013 and received her C.I.A.O. designation in May 2019.
---
Rock Island Township Elected Officials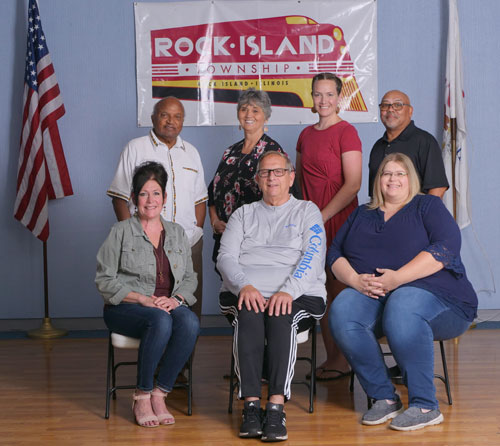 Front row: Heather Gray, Town Clerk; John R Brandmeyer Jr., Supervisor; Christina Wilson, Assessor
Back row: Trustees Vince G. Thomas, Rita Kirk, Tia Parker, and Jeff Lam Sr.
Everyone was sworn in by Karen Kinney Rock Island County Clerk
John R. Brandmeyer Jr. was sworn in by Karen Kinney, Rock Island County Clerk on May 17,2021
---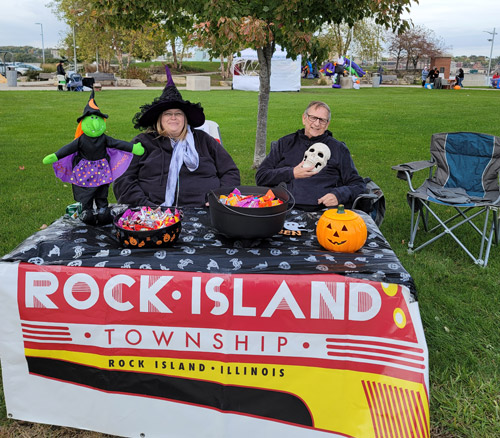 Assessor Christina Wilson and Supervisor John R. Brandmeyer Jr. passing out candy at Schwiebert park , during the Rock Island Parks trick or treat night.
---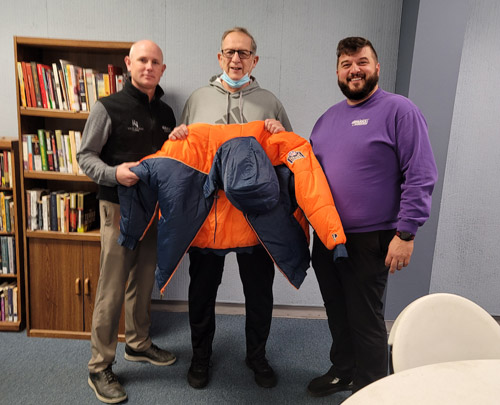 Supervisor John R. Brandmeyer Jr. accepting coats from Dan Gleason as part of the RIFAC annual coat drive.
---
Joan Clark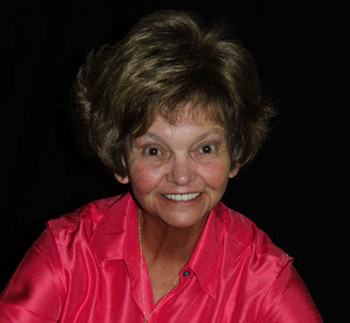 Rock Island Township is saddened by the death of Town Clerk Joan Clark (1947-2019). Joan served as Town Clerk from 2013 - 2019. Previously, she served as Township Office Manager for 20 years. Joanie was instrumental in developing Township services and programs - ranging from the Sacred Heart Food Pantry and Senior Holiday Luncheon to the St. Pius X Evening Meal. Joanie was also a grant writer for Moline Township. She had previously served as Community Caring Conference Executive Director.
---
Rock Island Township Blood Drive - January 6, 2017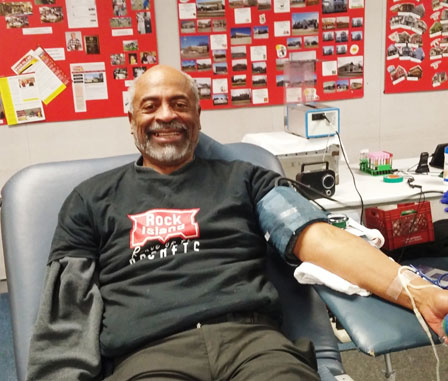 Trustee Jim Kerr donating a pint to the Mississippi Valley Regional Blood Center
---
2016 Township Officials of Illinois Annual Conference, Springfield, IL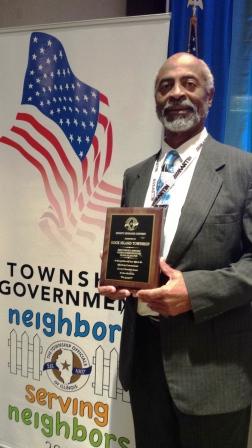 Trustee Jim Kerr with our Mighty Message Award for the Township's electronic message board sign.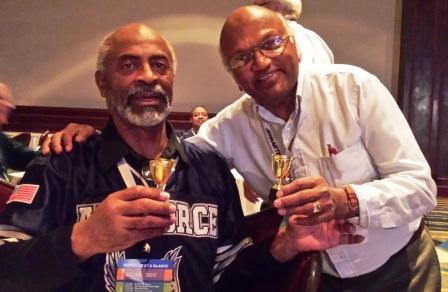 Trustees Jim Kerr and Vince Thomas took 3rd place in the Bean Bag Tournament.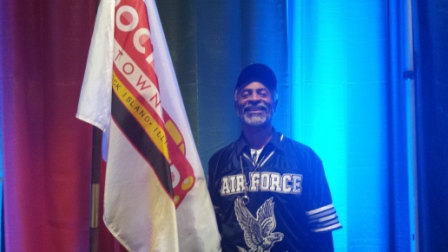 Trustee Jim Kerr with our Township flag.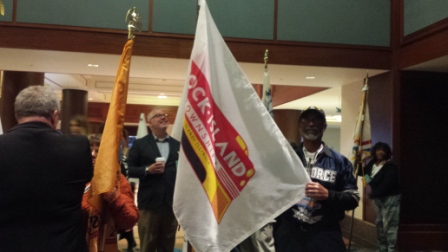 Trustee Jim Kerr getting ready for the parade of flags.